After much consideration, Qlicksmart's third-annual Golden Scalpel Award winners have been selected. Each year we continue to see our distributors overcome challenges and seek new opportunities in order to improve sharps safety around the world. Therefore, it is with great pleasure that we acknowledge these efforts and announce this year's winners, who each displayed commitment, enthusiasm and growth throughout 2021.
Distributor of the Year
Winner: Swann-Morton
Highly Commended: Medzorg
Newcomer of the Year
Winner: Cresmed Hospital SRL
Highly Commended: PT Basen Global Medivisindo
Safety Advocate Award
Winner: United Italian Corp.
Highly Commended: Bosco Medical
Smart Campaign Award
Winner: Keir Surgical
Highly Commended: RT Medical, Briggate Medical Company, JK Surgical
Keep reading for more information about our winners and their achievements over the last 12 months.
Distributor of the Year 
Winner: Swann-Morton (United Kingdom)
Swann-Morton has demonstrated commitment to the Qlicksmart message, a collaborative spirit, and many notable achievements within its markets. This has been defined by a pro-active approach to promotion of the newly launched BladeFlask EVO, collaboration on numerous marketing materials, attendance at trade shows, and continued efforts towards market expansion in both existing and new markets. They also strengthened their relationship with existing customers, established partnerships with prominent training and education institutions, and led the way on BladeFlask EVO in the UK veterinary and podiatry space. We can't wait to continue this work together in 2022 and beyond.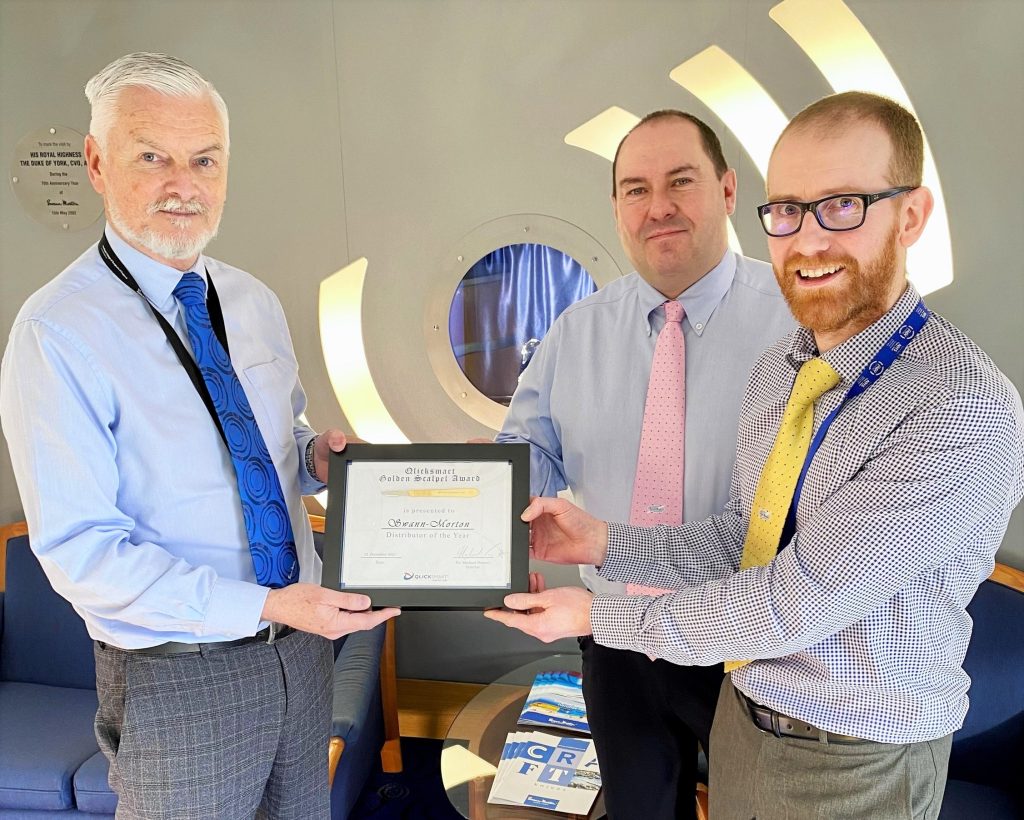 Swann-Morton's retiring Sales & Marketing Director Chris Taylor proudly presents Qlicksmart's Golden Scalpel Award to the new Sales Director Tom Caley and Customer Support Manager Adrian Glossop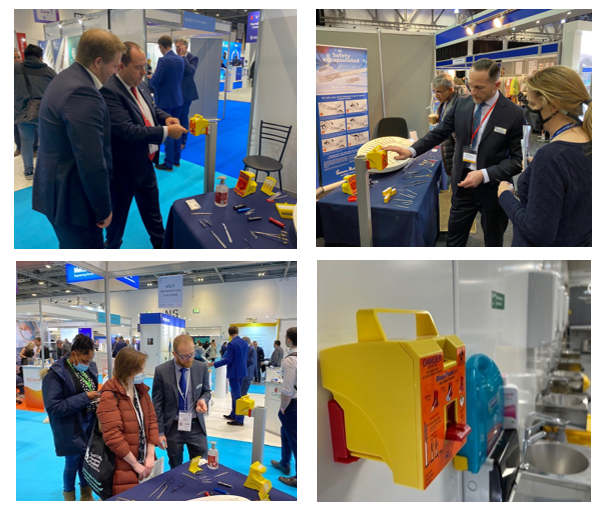 Chris Taylor, Adrian Glossop and Tom Caley providing BladeFlask EVO demonstrations, and BladeFlask EVO installation at a veterinary training facility 
Highly Commended: Medzorg (Netherlands) 
Medzorg's enthusiasm for the Qlicksmart brand, and willingness to explore new opportunities is always evident. Some highlights from this year include collaboration on advertorials featuring Qlicksmart's device range in Dutch OK-Journal, and distribution expansion efforts. Additionally, Hans-Peter has a keen eye for innovation, working closely with our R&D team on upcoming projects. We can't wait to see what we are able to accomplish alongside Medzorg in 2022.
Hans-Peter Brands (Director) holds Medzorg's Highly Commended Certificate and celebrates with champagne 
Newcomer of the Year
Winner: Cresmed Hospital SRL (Italy) 
Cresmed Hospital SRL joined the Qlicksmart community in late 2020 as a distributor. They have done a fantastic job introducing the Qlicksmart devices throughout the north of Italy over the past year, converting hospitals and clinics to use the BladeFLASK and BladeNeedleSYSTEM scalpel blade removers, and SnapIT ampoule openers.
We have enjoyed working closely with Monica and the Cresmed team in their efforts to establish a strong market for Qlicksmart devices through translations of materials, sales training workshops, tender submissions, and their nursing conference exhibits. Introducing new safety concepts and devices during a pandemic can be challenging, but the Cresmed team have had great success so far, and we know that the Italian market for Qlicksmart devices will continue to grow in 2022 with Cresmed's support.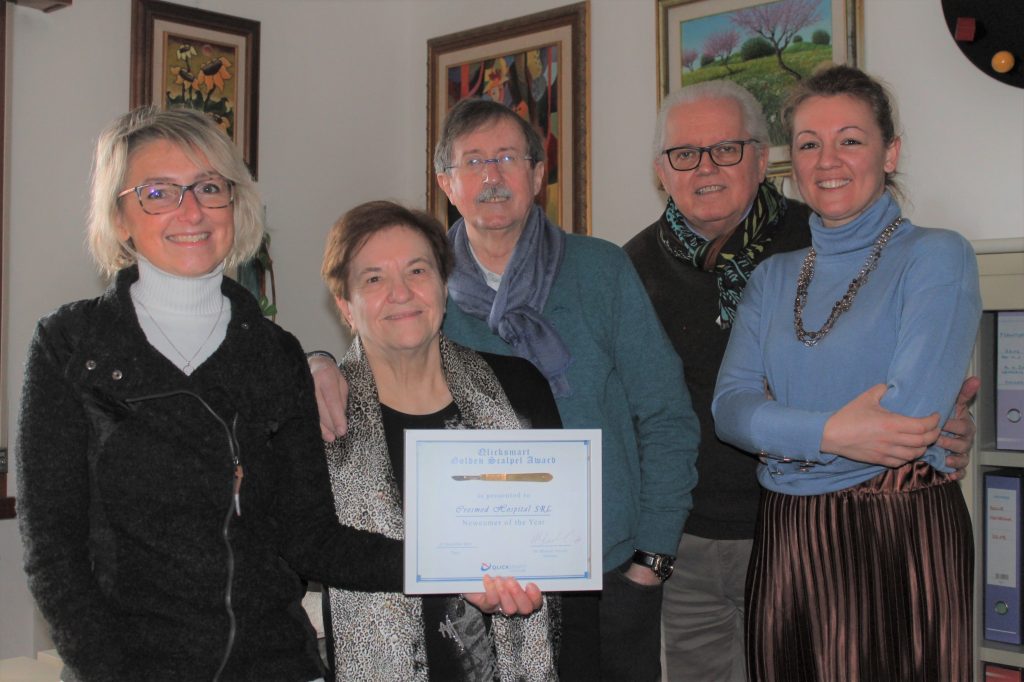 The Cresmed Hospital team with their Golden Scalpel Award
Highly Commended: PT Basen Global Medivisindo (Indonesia) 
While it has only been a few months since PT Basen Global Medivisindo began distributing Qlicksmart devices, they have had a big impact already on safety in Indonesia.
Dr Hussein and Mr Bambung (the co-founders) have helped nurses implement SnapIT to prevent ampoule injuries and are working with the Indonesian Society for Infection Control to raise awareness for sharps safety within hospitals and healthcare facilities. With our collaborative promotions and advocacy, Qlicksmart and PT Basen expect to establish a strong market in Indonesia throughout 2022.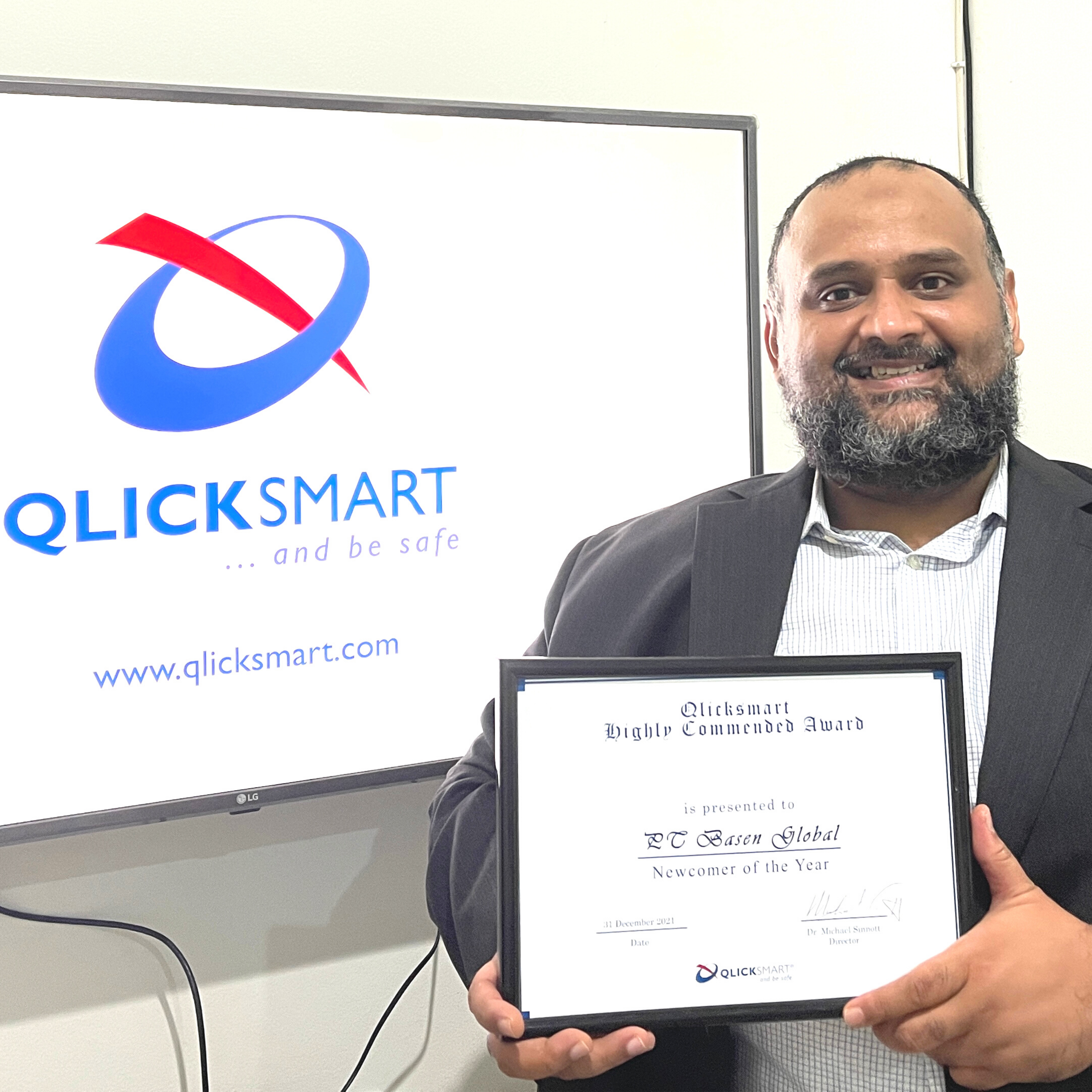 Dr Hussein with PT Basen Global Medivisindo's Highly Commended Certificate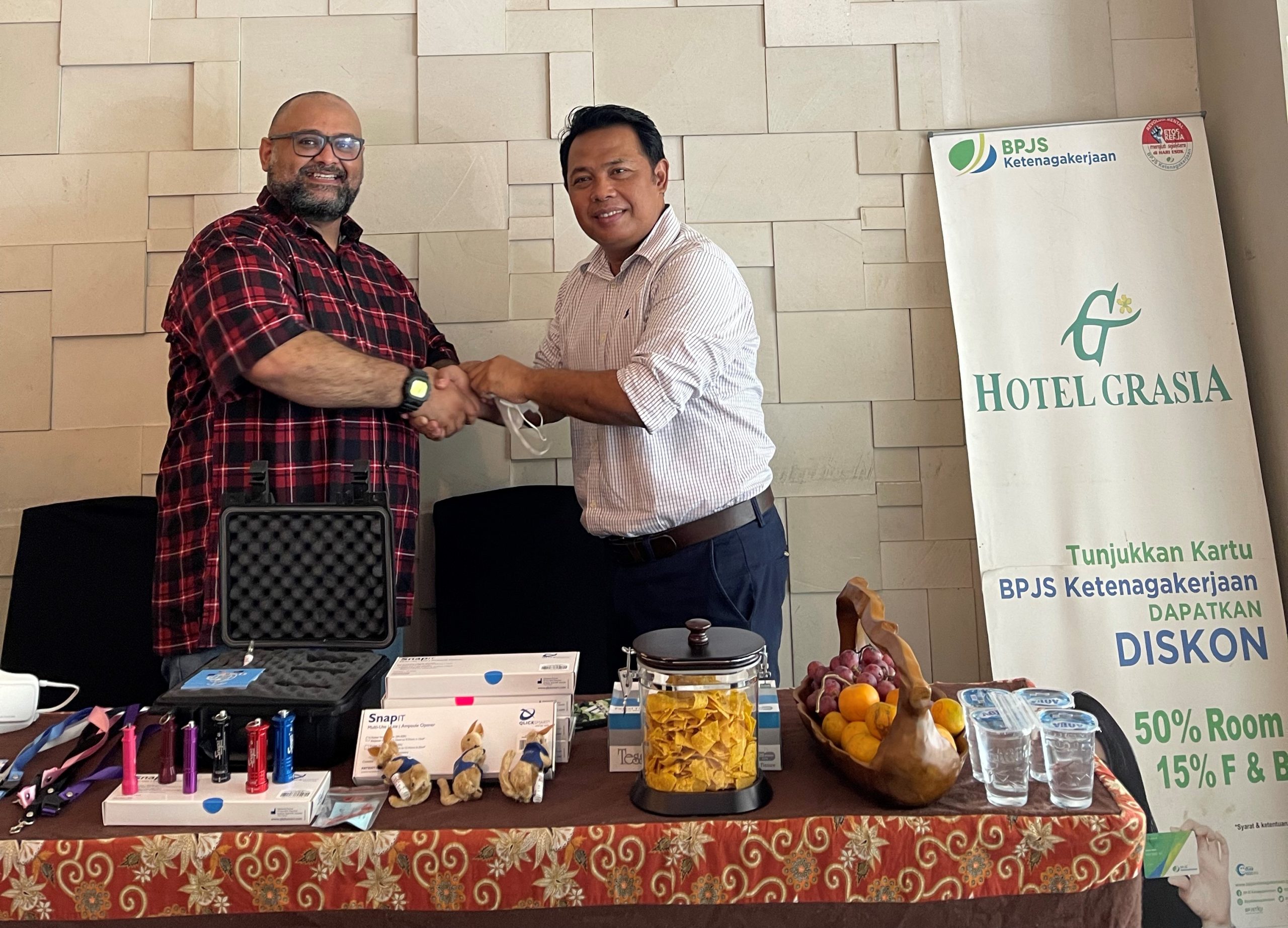 Dr Hussein and Mr Bambung (co-founders of PT Basen Global Medivisindo) promoting the SnapIT to nurses at a conference in Java
Safety Advocate Award
Winner: United Italian Corp. (HK) Ltd. (Hong Kong) 
United Italian Corp continued to promote staff safety in 2021, actively working with nurses and organisations in Hong Kong to raise awareness of sharps safety and how Qlicksmart devices prevent injuries to healthcare workers. In July, United Italian Corp supported the Hong Kong Association of Occupational Health Nurses at their Occupational Health Symposium and 10th Annual General Meeting, where Dr Sinnott (Qlicksmart's co-founder) delivered the keynote address on Technical Advancement on Sharps Injury Prevention & Safe Management. Dr Sinnott spoke about how hospitals can implement the Hierarchy of Controls to meet safety guidelines and better protect staff from sharps injuries.
United Italian Corp run annual training sessions on Qlicksmart devices and sharps education, and while hospital restrictions continued, they have been keeping in touch with nurses and hospital customers via WhatsApp. The United Italian Corp team's passion for keeping staff safe remains an inspiration to all of us at Qlicksmart.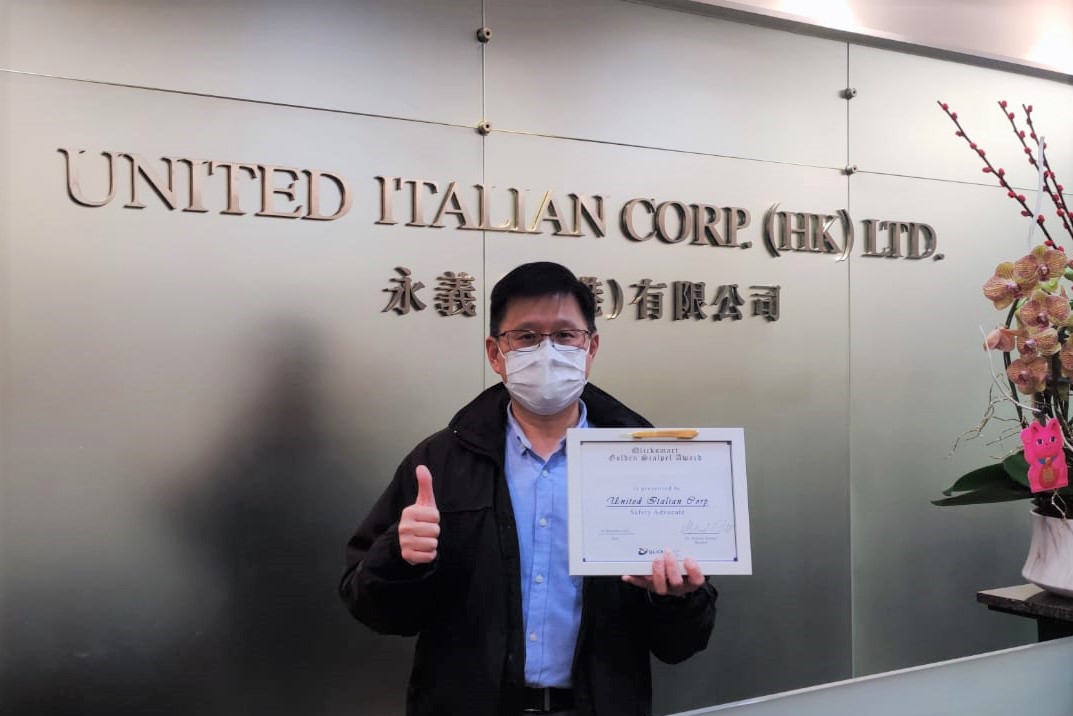 Allen Sun (General Sales Manager) with United Italian Corp.'s Golden Scalpel Award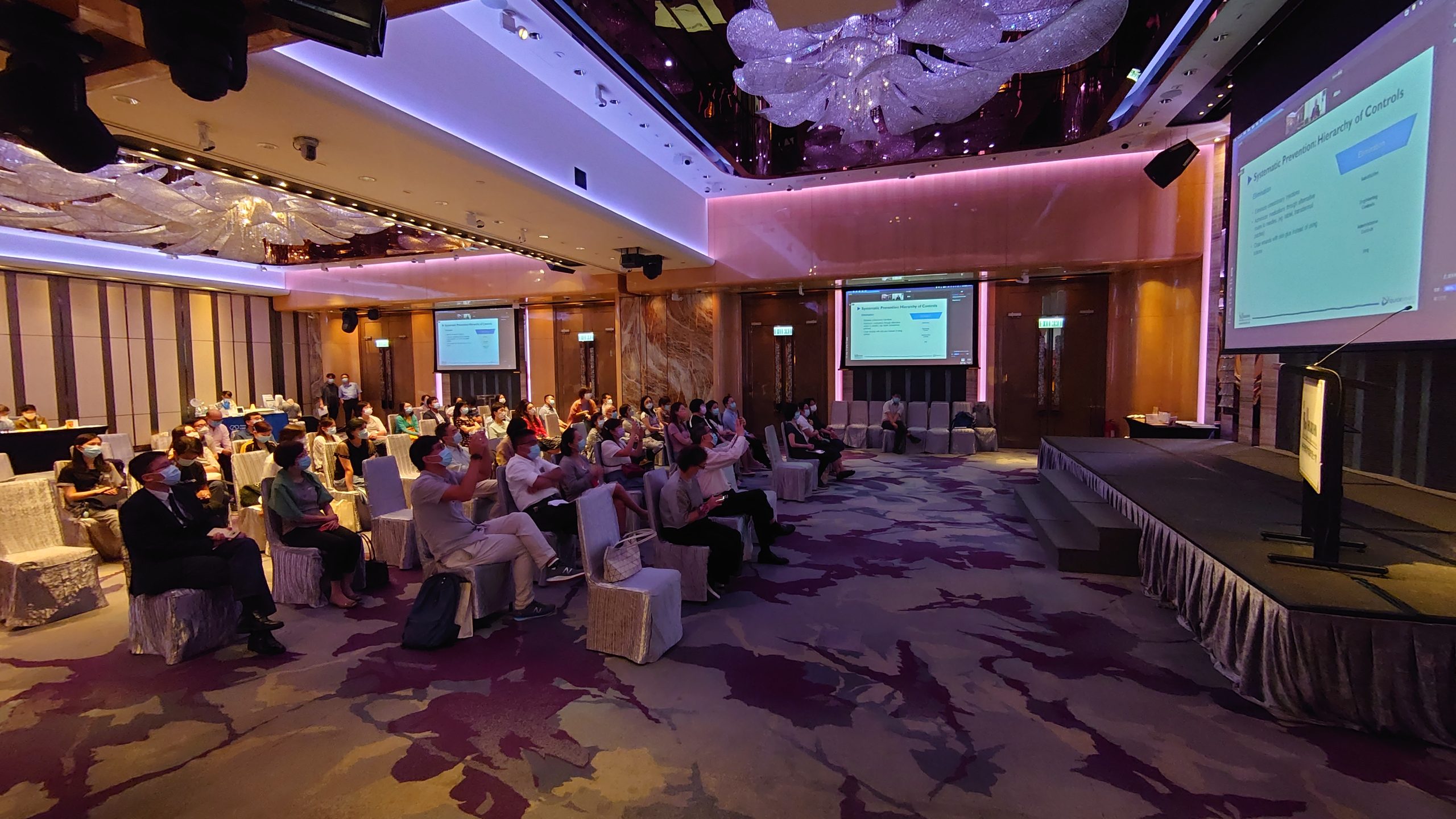 Occupational Nurses in Hong Kong learning about sharps safety from Dr Sinnott thanks to United Italian Corp
Highly Commended: Bosco Medical (Australia) 
Bosco Medical have long been supporters of the Qlicksmart safety message, and in 2021 they persisted to advocate in Australian hospitals for sharps safety. Paul Rea (National Sales Manager) and the team navigated running education and promotional activities at hospitals and local conferences, despite the ever-changing restrictions in Australia throughout the year.
We look forward to continuing to work together with Bosco Medical to raise awareness on the updated Australian Standard 3825:2020 (scalpel blade removal guidelines) and updated NHMRC Infection Control guidelines. Bosco are also actively promoting the BladeFlask EVO in hospitals conducting specialty surgeries, as a safe Engineering Control.

Smart Campaign Award
Winner: Keir Surgical (Canada)
Keir Surgical' s innovative launch of the BladeFlask EVO in Canada throughout 2021 has earned them the Smart Campaign Award. Their campaign included: a marketing blitz targeting morticians and medical examiners, promotion in their newsletter, custom BladeFlask EVO flyers (in collaboration with Qlicksmart), translating BladeFlask EVO brochures into French, and organising a targeted product positioning workshop with their sales team on the Hierarchy of Controls. We have thoroughly enjoyed collaborating with Keir Surgical on these marketing materials, and appreciate their strong promotion of the BladeFlask EVO.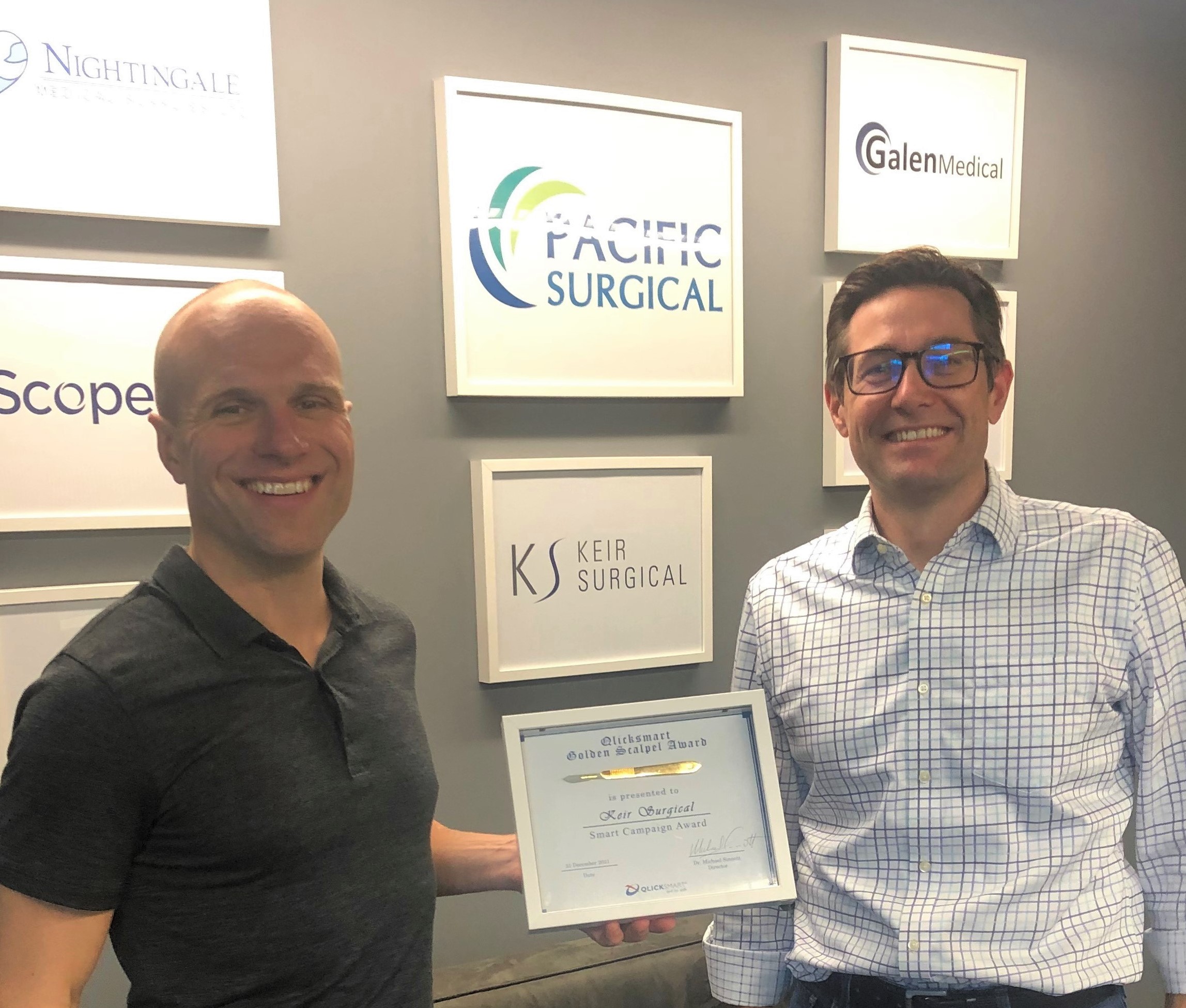 Keir Surgical's Matt Stanimir and Pat Haney with their Golden Scalpel Award 
Highly Commended: RT Medical (Germany)
Throughout 2021, RT Medical has boosted Qlicksmart's online presence in Germany, and assisted with the creation of many new marketing materials, tailored towards the German market. This includes the creation of a new Instagram account and frequent posts featuring the Qlicksmart devices. They have also created a new website, provided us with German voiceovers for our BladeFLASK and BladeNeedleSYSTEM how-to-use videos, and translated our safety scalpel flyer. Their marketing materials have undoubtedly helped promote the message of staff safety, and increase awareness of the Qlicksmart devices.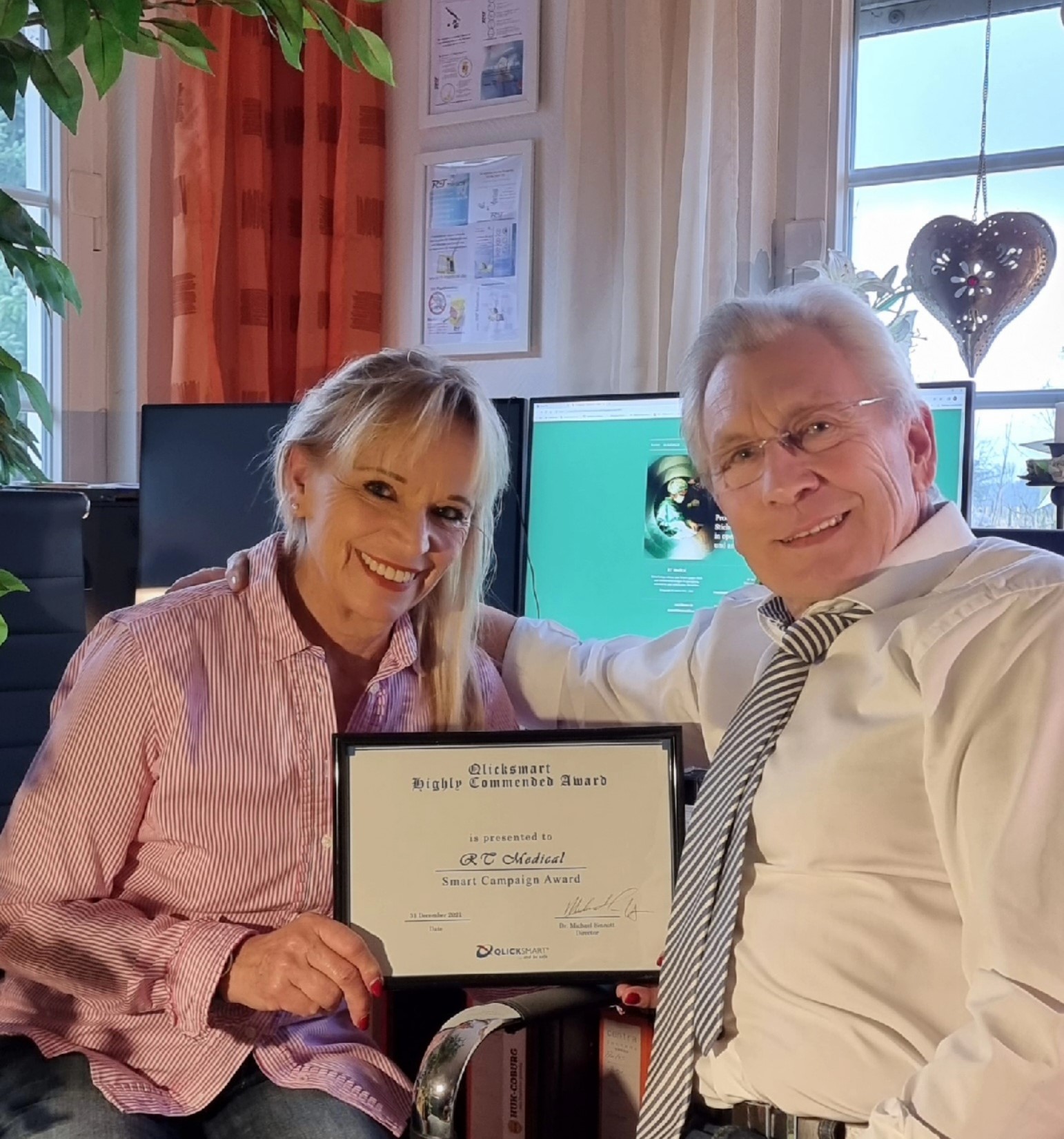 Conny and Frank Repschaelger with their Highly Commended Certificate 
Highly Commended: Briggate Medical Company (Australia) 
Briggate Medical Company in Australia have been distributing BladeFLASK to podiatry facilities in Australia for over 15 years. In 2021, Briggate collaborated with Qlicksmart to run a campaign promoting BladeFLASK with their top scalpel blade customers, which lead to new customer accounts and more podiatrists being kept safe from scalpel injuries.
Rob Wagner (General Manager) and the Briggate team promoted BladeFLASK in social media videos, their online catalogue and website, and provided samples of both BladeFLASK and the Mounting Bracket for podiatry clinics to install and try.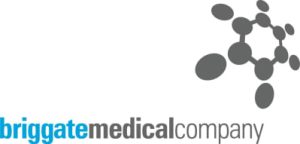 Highly Commended: JK Surgical (Poland)
The team at JK Surgical have worked hard to promote the message of sharps safety and reach new customers. This has been exemplified through attendance at two product workshops, and the Cracow Beauty Congress in September, where they were able to showcase and hand out flyers for Qlicksmart devices to clients. They have demonstrated an eagerness to venture out and reach new customers, despite the challenges presented by COVID-19.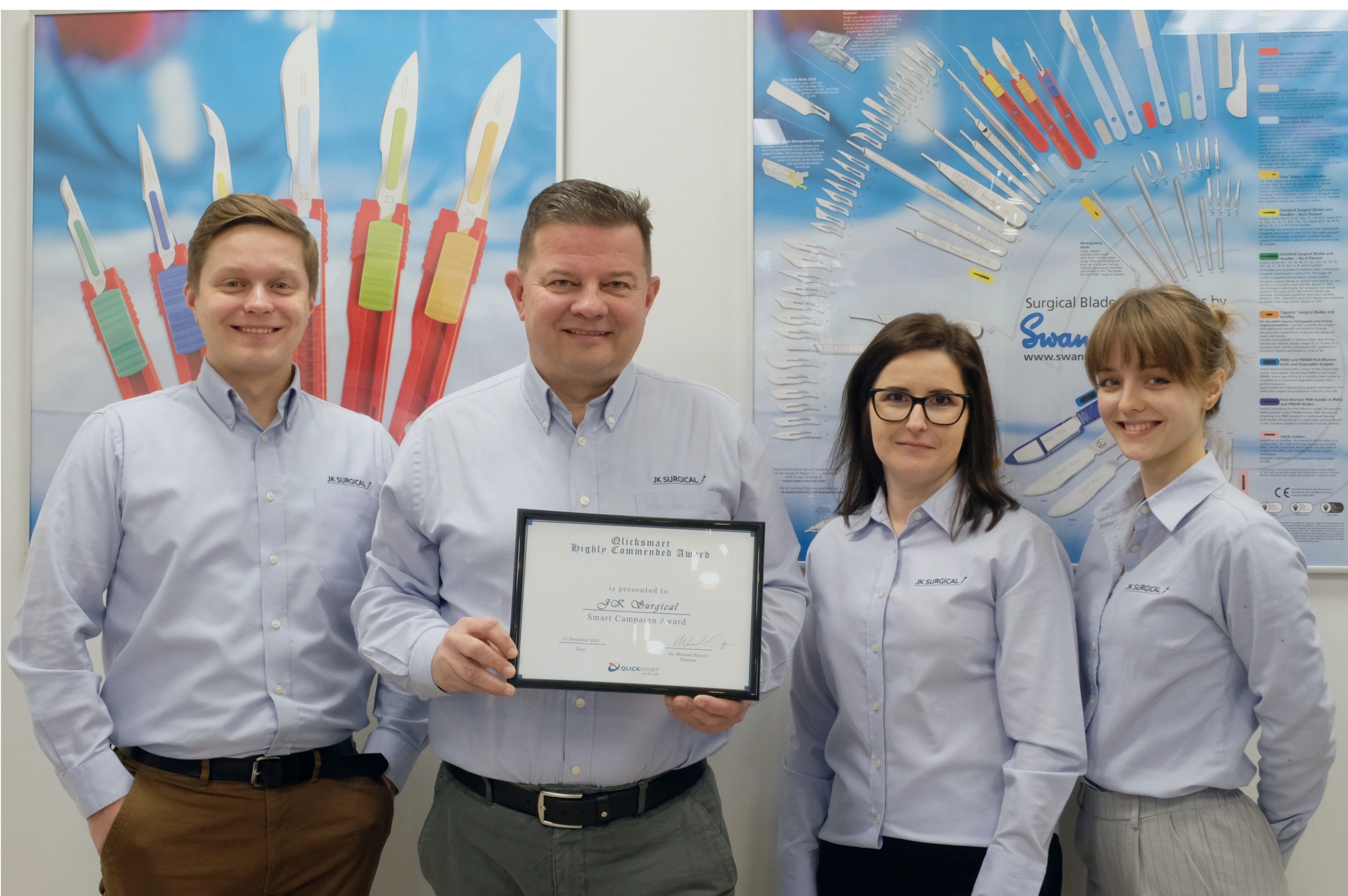 JK Surgical Team with their Highly Commended Certificate 
Congratulations to all of our winners – your hard work is greatly appreciated by us at Qlicksmart, and is certainly paying off. As with all of our distributors, we are excited to continue this momentum into 2022, and eagerly await our next Golden Scalpel Awards.
If you you have any ideas for collaboration this year, or would like to organise a meeting to discuss your plans for 2022, please do not hesitate to contact us at hello@qlicksmart.com 
Golden Scalpel Award Winners 2021