It is with much excitement that we announce Qlicksmart's fourth-annual Golden Scalpel Award winners. There were many excellent candidates, and we are extremely proud of all distributors who continue to adapt to the challenges of the past few years.
This year's winners in particular sought opportunities to re-connect with their customers, expand their reach, and collaborate with us on promoting sharps safety as part of their marketing and sales initiatives.
Without further ado, let's celebrate the winners!
Distributor of the Year – Asia Pacific: Indola Pharma Link
Distributor of the Year – the Americas: Cincinnati Surgical and Medviz S.A.
Distributor of the Year – Europe: Hospithera S.A.
Newcomer of the Year: Ensus Sp.A.

Distributor of the Year – Asia Pacific
Indola Pharma Link

As a Qlicksmart distributor since 2015, Indola has developed a fantastic reputation among hospitals and polyclinics across Singapore. Their excellent customer service is evident through timely responses, speedy deliveries, in-person visits, and purchase reminders. During hospital visitation restrictions, they also took particular care to ensure email communication was as swift as possible. This has resulted in high levels of customer satisfaction, recommendations, and positive word of mouth, fast-tracking growth in their key markets.
In addition, Indola has expanded into new markets through participation in tenders.
During our Asia-Pacific Regional Distributor Meeting, Susanty and Patrick presented on their experience with the Qlicksmart devices in Singapore, including top tips for fellow distributors. You can watch their presentation in full here.
Congratulations Indola!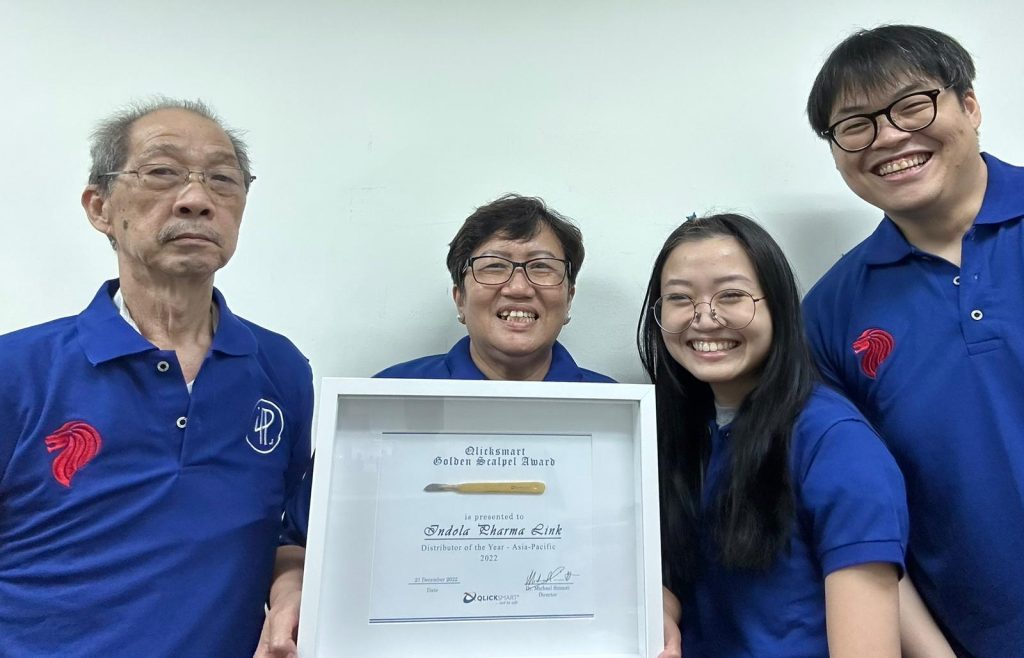 Indola Pharma Link team with their award

Distributor of the Year – the Americas
Cincinnati Surgical
Since 1938, Cincinnati Surgical has been recognized as an industry leader in manufacturing high-quality surgical blades, scalpels, safety products, and operating room accessories. Cincinnati Surgical has been a distributor of Qlicksmart products in the United States for over 15 years. Over the many years, the entire team at Cincinnati Surgical led by Jason Greiner and Brian Eve, have been committed to promoting Qlicksmart's safety devices and our safety message of 'one safety culture for both clinical staff and patients.'
The last year in particular, Cincinnati Surgical has invested significant resources in promoting our latest addition to the scalpel blade remover range, the Qlicksmart BladeFlask EVO. Their efforts include: demonstrations of EVO at a number of tradeshows, conducting targeted campaigns, website spotlights on the product, newsletter features, and blog posts. These efforts have resulted in sales of over 500 units in a few short months.
We proudly present this award to Cincinnati Surgical to recognise their many years of dedication to our range and their continued efforts to make healthcare a safer place for clinicians.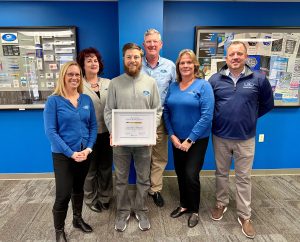 Cincinnati Surgical team with their award
Medviz S.A.
Medviz S.A. became a Qlicksmart distributor in 2018 and have been strong advocates of our safety devices ever since. In 2019, they hosted Qlicksmart's co-founder Dr Michael Sinnott at the 19th Mexican National Congress of Surgical Nurses, where he presented on sharps safety to nurses and other clinicians. Medviz have since continued to collaborate closely with Qlicksmart to deliver educational content, raising awareness of staff safety among healthcare professionals in Mexico.
Working within a country heavily impacted by Covid-19, this year Medviz began an initiative to re-prime the Mexican medical market for safety devices Their team are working closely with stakeholders and professionals, and they are seeing early signs of a positive response. Their team have also assisted Qlicksmart with Spanish translations of our marketing and educational materials, enabling us to better resonate and communicate with the Latin American market. A special mention must go to Gustavo for his translation skills and continued assistance. We look forward to continuing our work with Medviz in 2023, which is shaping up to be a very successful year!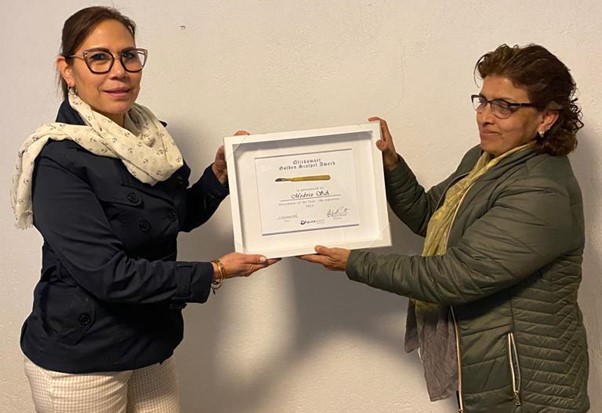 Medviz's senior managers with their award

Distributor of the Year – Europe
Hospithera S.A.
Having been a distributor of the Qlicksmart devices since 2002, last year marked 20 years of our valued partnership with Hospithera.
We are immensely proud of the achievements made in Belgium over the last two decades to improve the safety of healthcare workers – and 2022 was no different.
Earlier in the year, we had the opportunity to conduct a product training workshop with sales representatives from their Infection Prevention Division, which was met with much enthusiasm and engagement. We received many thoughtful questions and insights from attendees, who had a wealth of knowledge of infection control products and their customers.
Following this, a BladeFLASK marketing campaign was launched on the annual World Day for Safety and Health at Work. Hopsithera's marketing team co-ordinated an email campaign, as well as blog and LinkedIn posts, with the aim of expanding BladeFLASK customers. We can't wait to continue the work we are doing with the Hospithera team in 2023 (and hopefully for another 20 years beyond)!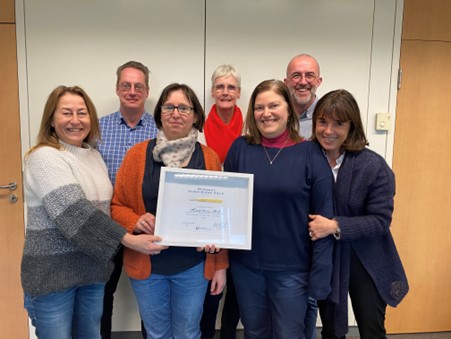 Hospithera team with their award

Newcomer of the Year
Ensus Chile Sp.A.
Ensus Chile SpA joined as one of our new distributor partners in 2022, and during the year made remarkable progress in introducing the Qlicksmart safety devices to the Chilean market. Alejandro, Fransisco, and the team have been enthusiastic about collaborating with us on promotional campaigns, regulatory listings, and raising awareness of sharps safety with occupational health groups and hospitals. The Ensus team's 2023 plans for Chile include an official Qlicksmart launch event with assistance from Trade and Investment Queensland's LATAM office, targeted sales activities, and advocacy with key professional bodies. We are excited to pursue these goals with Ensus, which we know will have a great impact on growth and uptake of the Qlicksmart devices in this region.

With infection control receiving more attention, and sales activities returning back to normal, we are excited to see what our distributors can achieve this year! We hope that all distributors reap the benefits of their persistence and hard work over the past few years. Only time will tell 2023's winners!
As always, we are very keen to work closely alongside you this year. Please reach out to your primary contact or hello@qlicksmart.com, to arrange a meeting, so we can best support your plans for the Qlicksmart devices!
Golden Scalpel Award Winners 2022